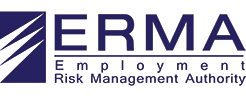 Already have an account? Login below.
Employment Practices Liability

ERMA provides tools to help manage employment related risk. In addition to providing a variety of articles and training materials relevant to employment practices through this web site, at no additional cost we offer consulting advice through iLearningEngines, a human resources consulting firm. ERMA is committed to assisting you and your management team in building a firm culture to help reduce exposure to claims and lawsuits by providing employment practices training, resource materials and services.

Note: The information on this site should not be construed as legal advice or a legal opinion on any factual situation. As legal advice must be tailored to the specific circumstance of each case, the general information provided herein is not intended to substitute for the advice of professional counsel.

ERMA Homepage

Need Assistance?

Contact your ERMA iLearningEngines online account representative at 800-205-5262 or email the ERMA iLearningEngines help desk.














ins.ilearningengines.com